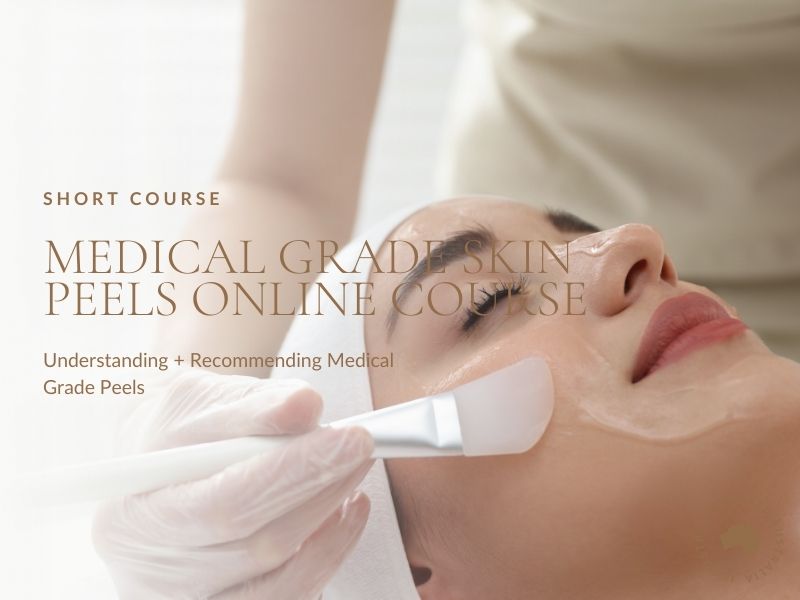 Medical Grade Skin Peels Course
Unlock the potential to elevate your expertise and master the art of delivering exceptional treatments with precision and finesse. The Medical Grade Skin Peels Course is a comprehensive course that is tailor-made for those who are committed to honing their skills and taking their knowledge to the next level.
Whether you're looking to enhance and solidify your existing proficiency or yearning to gain a deeper understanding to execute treatments with unparalleled effectiveness, this course is your pathway to excellence.
Time to perfect your skills and deliver excellent treatments. Do this course if you are wanting to improve and consolidate your current knowledge or would like to know more to be able to perform these treatments effectively.
Who is it for?
GPs, doctors, nurses, beauty therapists and other dermal clinicians or skin therapists or those interested in a career in this rapidly evolving industry.
Mode of delivery
Online.
Investment of time
This course takes upto 4 hours to complete.
Prerequisites
This course warmly welcomes individuals from diverse backgrounds, and there are no specific prerequisites for enrollment.

However, if you already possess a foundational understanding of skin anatomy and physiology, you'll find that it can significantly enrich your learning experience and provide you with a deeper grasp of the subject matter.

Whether you are a seasoned professional or simply an inquisitive enthusiast, the Medical Grade Skin Peels Course assures to equip you with invaluable insights and knowledge that will empower you to excel in this field.

Seize the opportunity to explore the intricacies of skin health and care alongside us!

Expected learning outcomes
History of chemical peels
What is a chemical peel?
Use in clinical practice – intrinsic & extrinsic ageing
How do they work?
Review of basic skin anatomy
Peel depth classifications
How to choose the right peel (Alpha-Hydroxy Acid (AHA), Beta-Hydroxy Acid (BHA), Pyruvic Acid, Jessners Peel, Trichlorocetic Acid (TCA), Phenol)
Contraindications
Commonly used peels in clinical practice
Peel application techniques
Complications and Considerations
Skin preparation and home care
Aftercare
Safety Protocols
This course meets four hours of continuing professional development (CPD) when applied according to relevant AHPRA guidelines. Continuing professional development is the means by which members of the profession maintain, improve and broaden their knowledge, expertise and competence, and develop the personal and professional qualities required throughout their professional lives.
START LEARNING TODAY
Begin your Medical Grade Skin Peels journey today with Bravura Education!
Enrol now for just $249