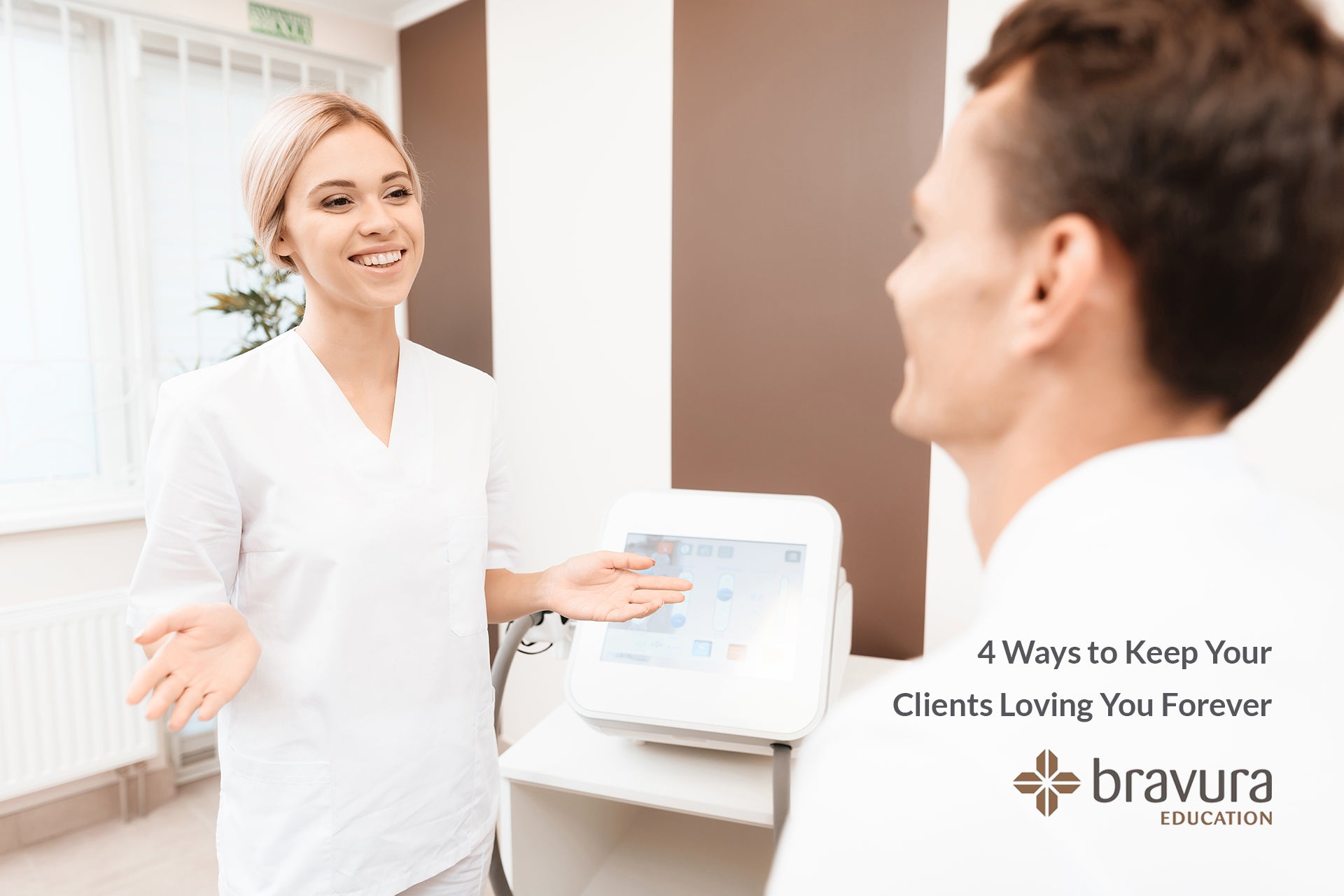 4 Ways to Keep Your Clients Loving You Forever
From the first phone call, your client should feel heard, valued, and excited… like they have chosen the salon/clinic they want to belong to.
Most beauty and aesthetic treatments are a luxury, not a necessity, so, your client is choosing to come to you. What difference will you offer that will keep the client coming back? There are so many ways to care for your client besides treatment.
If I have to narrow it down to talk about only a few, here are my top 4.
Education
Do I say this in every blog? I think so! Being able to offer your client the best type of treatment isn't only about fancy machines and products, you need to know how the buttons work and not just a 'one setting for all' type of button, it's so powerful to understand how to better use your devices and tools, which comes from education and practice.
Trust
This goes both ways. A client needs to know that both the treatment and home care you are recommending them are in their best interest and to reach their end goal, not just in the interest of your $$$. Let's face it, nobody likes to feel like they are being sold to, right? Give your clients the tools they need at home to maintain the treatment until you see each other again and trust that you have educated them enough to follow through. You are now the personal trainer/gym to their skin and as such this will be a new relationship that is designed to have an improvement over time.
Plan
As mentioned above, this new skin relationship will take place over time, like abs in the gym, there is no one-stop-shop (if there is, please sign me up). These things need to be thought out and planned. When doing your plan, consult with your client, what is her time frame, budget, availability, prior engagements on the calendar, etc. Use this information to help form the best possible plan for the best possible outcome. This information also helps when booking appointments and takes the guess work out, as well as filling up your diary in advance.
Professionalism
This goes without saying, but there have been times I have visited a spa (or even the grocery store) and these simple 'rules' were lacking.  When I think of professionalism, I think, presentation, both personal and the workspace. Eye contact. Reception staff standing up upon arrival to greet clients with a smile, being genuine with the client but also letting friendliness come through so that clients feel comfortable, having the answers to what the clients are asking or knowing where to find the answer. Answering the phone in a courteous manner and remembering the name of the client on the other end.  Having your room prepared before entering, knowing where you are up to on your client's plan before they arrive.
Would you like to spend some time with us to see excellence in client care in action? Call 1300 001 808 
Post Disclaimer
This blog post has been vigilantly researched and fact checked to ensure that it is accurate, reliable and up to date. You must keep in mind that errors and omissions may occur and that we welcome any feedback or corrections in this regard. We encourage you to do your own research to verify the accuracy and contemporary nature of the information presented.