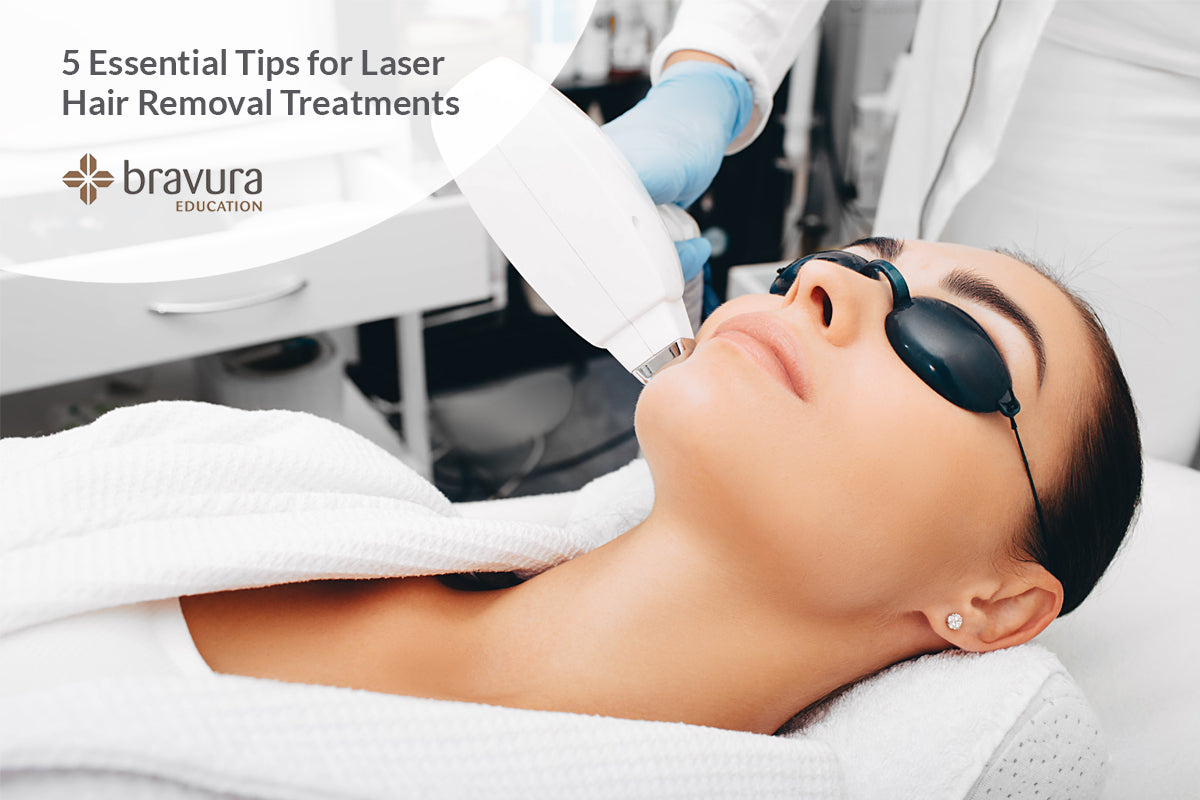 5 essential tips for laser hair removal treatments
Deciding where to go for hair removal can be daunting and summer is just around the corner. Here we show you how to get the best out of your treatment and also how to choose the right person to do it.
Pre plan and book all your treatments in advance
This is such a smart idea as you will then be able to see in your calendar if you have a trip, wedding or something else important coming up and can plan everything in advance and around your existing commitments to be sure you are able to keep your appointments. If you come a week either side of the suggested 4-6 week time line it won't ruin the treatment however it's good to keep them spaced correctly as often as you can. 
Request to have the same operator for each treatment
Or at least a rotation of the same two therapists. This isn't absolutely necessary and is sometimes tricky with a busy schedule if you are coming at different days/times, however the reason I suggest this is so that you go on the journey together and can discuss the treatment and results as you go. What areas have had the best results. Where to focus more etc. As well as things like if you are doing your bikini line, you don't need to re explain each time you visit the shape you are after. If nothing else, it's so fun to catch up with your therapist each time 😉
Buy a shower loofah
So.... After your treatment, the hair will just start to grow back as usual and when you see that you may think "why did I even bother with having a treatment done, it's all growing back" #eyeroll BUT grab the loofah, start to gently exfoliate in circular motions and watch that hair literally fall out (bye bye, those hairs will not come back)! 
Let your hair grow so you can see the progress
I know, I know, I just said use your loofah to get rid of the hairs, but what I mean when I say let your hair grow is don't shave it the same second it starts growing, then you can't see the progress. So let it grow, see where it is and isn't growing back, loofah (Ohhh the satisfaction of the hairs falling out) and then shave.
Invest in a great razor and shave the day BEFORE your appointments
This will be one of the last razors you will ever buy, so spend a little more and get a great one, not those cheap disposable ones that nick you along the way. Using the two tips above to shave (or not) and go about your ways within the 4-6 weeks in between appointments, do not pluck or wax.  The day before your appointment, freshly shave so you are ready to rock and roll for your treatment. Always check in with your therapist too, she may want to have a look at the progress, especially as the treatments get toward the end. Where you have no hair anymore, you won't need to treat over those areas.
Please note: each clinic has their own protocols, some will require you to shave beforehand and if you don't, they may turn you away for your treatments, others will want to shave for you.
Post Disclaimer
This blog post has been vigilantly researched and fact checked to ensure that it is accurate, reliable and up to date. You must keep in mind that errors and omissions may occur and that we welcome any feedback or corrections in this regard. We encourage you to do your own research to verify the accuracy and contemporary nature of the information presented.