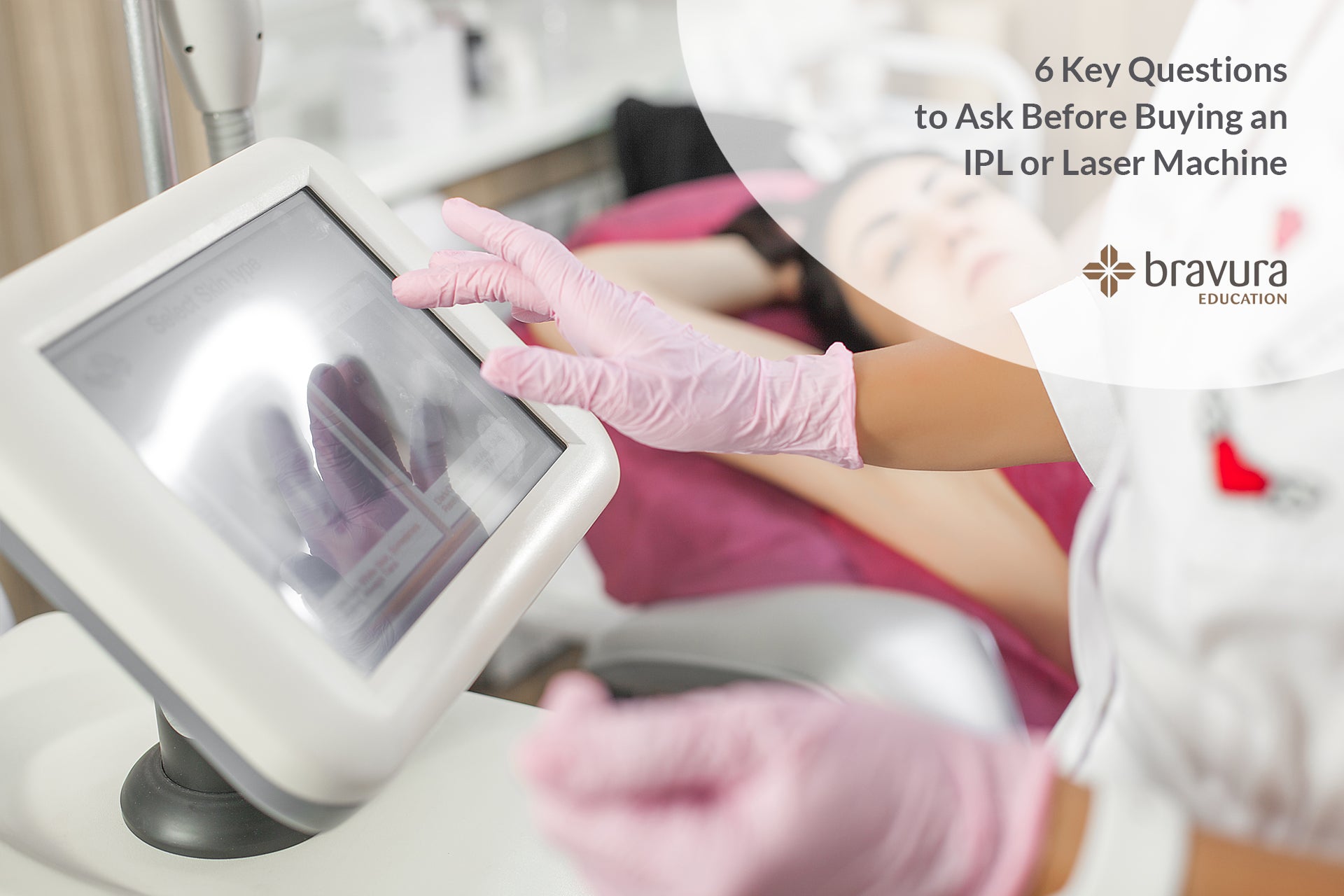 6 Key Questions to Ask Before Buying an IPL or Laser Machine
Just like when you are going to purchase any big-ticket item, say a car or a house, you want to know that you are investing wisely. These machines can cost between $10000 and $250000 so take your time and don't buy on impulse.
Buying an IPL/laser from Gumtree or Alibaba just won't do. Here are some questions you'll need to ask the person who's selling it to you.
Can your machine grow as you do?
Is it a one size fits all machine where you can't change to pre-set therapeutic parameters to get a better result if you need it? What skin types and conditions can the machine treat? Will it be able to do skin and hair or is it a one trick pony? Some machines can have different attachments to put on as you grow, such as a tattoo removal or skin tightening handpiece. Make sure it can grow with your skills and your patient needs.
What training and support can you expect from them?
Will they offer you ongoing support once you walk out? In clinic training, a user manual with A-Z for all settings and patient presentations, phone support, new employee training or a refresher masterclass. It is always good to know that if you need them, they will be there. This is going to be a big investment and in most cases, a new business relationship too.
How much?! Or can you lease to buy?
If you ask for your price and it is not feasible for you/your business right now, then what about a lease to buy agreement? Not all suppliers offer this option, but it is worth asking. Think about second hand, quality equipment too from reputable companies such as those on offer at Laser Trade.
Clinical studies
Don't be afraid to ask them for their own clinical papers. Who have they tested the machine on, what different skin types have they treated and what are the results, ask for photos and case studies? Ask whether the literature they provide and the before and after photos have been approved by the TGA if applicable.
On costs
What will the ongoing costs be? How frequently do they require servicing? What is the fee? Will there be freight each time you need a part sent? Will they provide a loan unit if something were to go wrong? How much are the disposables and consumables?
For example, an IPL handpiece usually has around 10,000 shots, if you are treating skin and hair with an IPL, then you may need two separate handpieces (one 530nm and one 610nm), so kept these ongoing costs in mind and these will need to be refurbished regularly.
Launch support
Will they help promote the launch of their machine in your clinic? Will they be there to support you in person on event night? Will they provide collateral to hand out like brochures or goody bags? How much social media collateral do they have to share? Does it conform to standards and regulations? Who is there to help you if something goes wrong or you have a tricky case and aren't sure how to proceed?
A good quality laser/IPL company will have satisfactory answers for all of these questions so don't be afraid to ask and choose wisely. Need help to navigate this minefield? Contact Keiran at Cosmetic Compare and see how he can help.
Post Disclaimer
This blog post has been vigilantly researched and fact checked to ensure that it is accurate, reliable and up to date. You must keep in mind that errors and omissions may occur and that we welcome any feedback or corrections in this regard. We encourage you to do your own research to verify the accuracy and contemporary nature of the information presented.