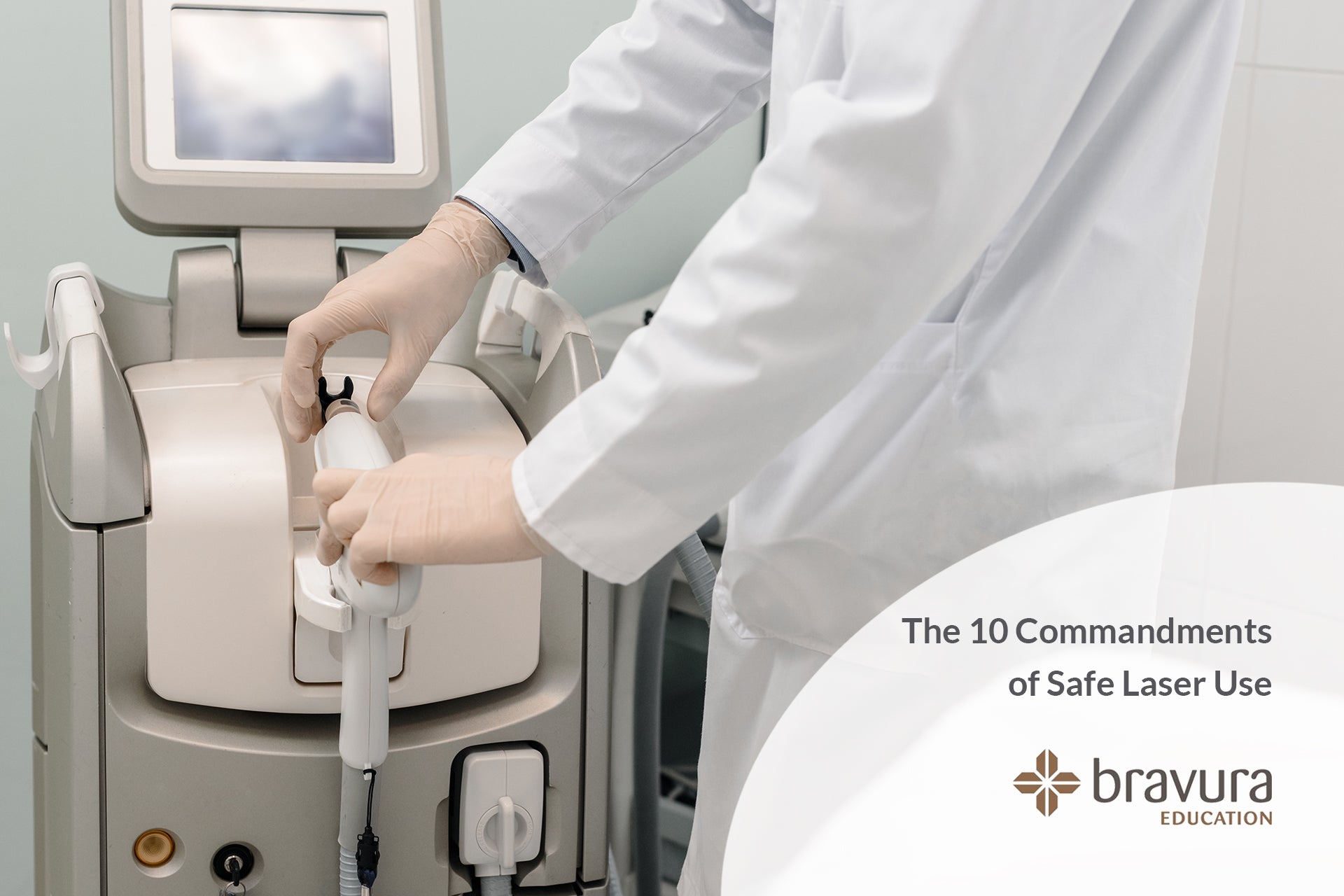 The 10 Commandments of Safe Laser Use
It's hard to keep up with changing standards, legislation and policy but we will always be communicating with you to save you time and energy.
The new AS/NZS 4173:2018. Safe use of lasers and intense light sources in health care (Standards Australia) were published in early 2018 and are available at the SAI store but here's a potted version so you can be totally across them.
"Ten of the Commandments" of the new standards are:
Thou shalt have laser/IPL safety education before using a laser or IPL (We can help you determine which one you need to do)


Thou shalt only fire a laser or IPL if you are deemed competent in your workplace (Need to learn, upskill or reassure yourself you are on the right track? Try one of our practical workshops)


Thou shalt educate all staff that have contact with the laser/IPL. Here is a link to who this is. (Audit who needs one whether it be for new staff or a refresher for existing staff [older than three years or a non-accredited course done previously] and send us the spreadsheet, we'll do the rest for you)


Thou shalt have routine and periodic laser safety audits performed in order to ensure conformance to facility policy and standards, accuracy of documentation, and equipment safety (Too busy to do this or want guidance for your first? We can help)
Thou shalt have a staff education and competency policy (what are your internal requirements besides laser/IPL safety education and how will you determine competency and level of supervision?)


Thou shalt appoint a Laser Safety Officer (if you are a sole clinician, then this is you!)


Thou shalt have a policy on the roles and responsibilities of the Laser Safety Officer.


Thou shalt have a formal policy regarding the use of lasers which makes it clear to all staff that active cooperation amongst laser team members, conformance to Standards, and liaison amongst staff, administration and industry are essential for patient, environmental and staff safety.


Thou shalt have consistent methods for documentation of all laser procedures


Thou shalt have appropriate reporting procedures and action plans following all known or suspected incidents involving lasers.
Click HERE for a free Radiation Safety Protection Plan template.
Post Disclaimer
This blog post has been vigilantly researched and fact checked to ensure that it is accurate, reliable and up to date. You must keep in mind that errors and omissions may occur and that we welcome any feedback or corrections in this regard. We encourage you to do your own research to verify the accuracy and contemporary nature of the information presented.