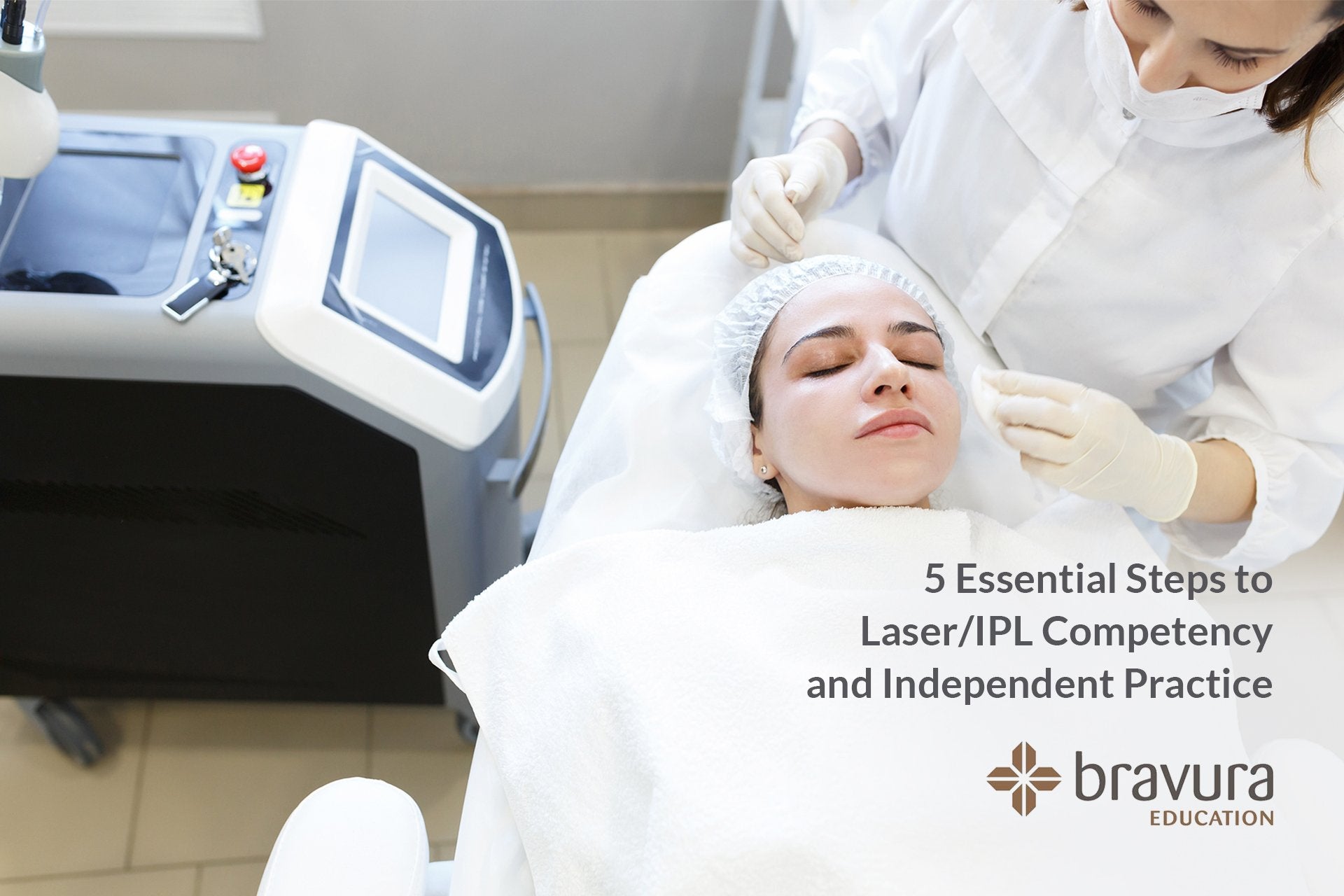 5 Essential Steps to Laser/IPL Competency
 1. Complete a laser/IPL safety course.

It's amazing how easy doing this first will make understanding how to get the best out of your machine. It will also prevent you from making costly mistakes because it will allow you to determine exactly what machine you will want to implement so you don't limit yourself and can grow into the full functionality of the device. It will also enable you to ask smart and pertinent questions of the sales staff and to then negotiate what clinical training you will require.
2. Be familiar with clinical best practice

Before you ever fire a laser or flash an IPL onto someone's skin it is essential to understand how skin works, how to identify and refer someone with an abnormal presentation, be able to discern what exactly you are treating and to understand exactly what it is you are looking for that indicates you are getting the response that you need. Our Advanced course contains the core education you need to need to assess skin, determine the presenting condition and whether a light treatment is appropriate, prevent adverse outcomes and optimise the treatment plan for your clients.
3. Initial clinical training with device supplier
Nobody knows the capabilities of your laser like the supplier and their team of experienced clinical trainers. Spend all the time they have on offer to get orientated to your own machine. They will provide an Operator's Manual which is essentially your bible and the protocols for how to treat individual clinical presentations such as for hair removal, pigmented lesions and vessels. There is no good learning to drive on a motorcycle if you are going to be reversing an articulated semi-trailer so do your practical on a device that you'll be using if possible. Once you feel like you are ready to come off your "L" plates some advanced practical one-on-one is what is needed from a senior clinical mentor. Some states require licensing, see number five.
4. Protocols
Under the new AS/NZS Standards there is a specific set of protocols with regard to laser/IPL safety that it is suggested being implemented. This includes to name a few: staff education, test firing a CO2 laser and ocular safety. Our beginner's laser/IPL safety courses all include a free set of these to get you started.
5. Full licensing if in Queensland, Western Australia or Tasmania
Make sure you are aware of the legal requirements if you live in these areas. We can help you navigate that if needed.
Reference: SAI Global (2018). Safe use of lasers and intense light sources in health care (AS/NZS 4173:2018). SAI Global.
Post Disclaimer
This blog post has been vigilantly researched and fact checked to ensure that it is accurate, reliable and up to date. You must keep in mind that errors and omissions may occur and that we welcome any feedback or corrections in this regard. We encourage you to do your own research to verify the accuracy and contemporary nature of the information presented.