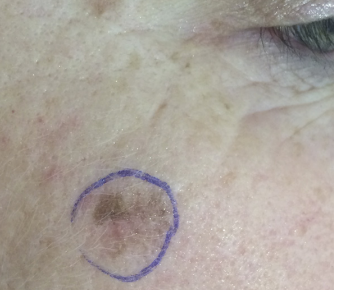 Cosmetic laser treatment can delay melanoma diagnosis and have devastating outcomes
This case will hit home for health professionals!
Why? Because it happened to a 56 year old nurse in Victoria. In the current edition of the Medical Journal of Australia authors (2017) Bala, Pan and Nixon report on a case where the nurse had sought treatment for a pigmented lesion on her cheek at a non-medical cosmetic clinic. They say that at no time was the lesion formally assessed either clinically or with a dermatoscope. Initially the lesion cleared but then recurred over the next twelve months which prompted her to seek medical advice. A biopsy showed lentigo maligna.
Of grave concern was her family history of melanoma
and excessive sun exposure
The authors have urged that the general public be made more aware of the dangers and that all pigmented lesions be medically diagnosed before any cosmetic treatment.
"Performing laser treatment on undifferentiated pigmented lesions
can delay diagnosis and lead to more devastating
outcomes including metastases"
Currently only Queensland and Tasmanian regulations have the requirement for pigmented lesions to me medically assessed. Regulation is not going to be national but a guidance document from ARPANSA will be drafted soon. We expect that medical assessment will be built into this in order to raise the standards of patient care in Australia.
We have a comprehensive continuing professional development module on Managing hyperpigmentation and it includes a significant section on assessing pigmented lesions (4 CPD points). This is also built into our Advanced laser & intense pulsed light accreditation course (applied cosmetic practice) (10 CPD points).
Bala, Pan and Nixon (2017) The dangers of non-medical laser therapy for pigmented lesions. Medical Journal of Australia, 205 (5), pp229
Post Disclaimer
This blog post has been vigilantly researched and fact checked to ensure that it is accurate, reliable and up to date. You must keep in mind that errors and omissions may occur and that we welcome any feedback or corrections in this regard. We encourage you to do your own research to verify the accuracy and contemporary nature of the information presented.