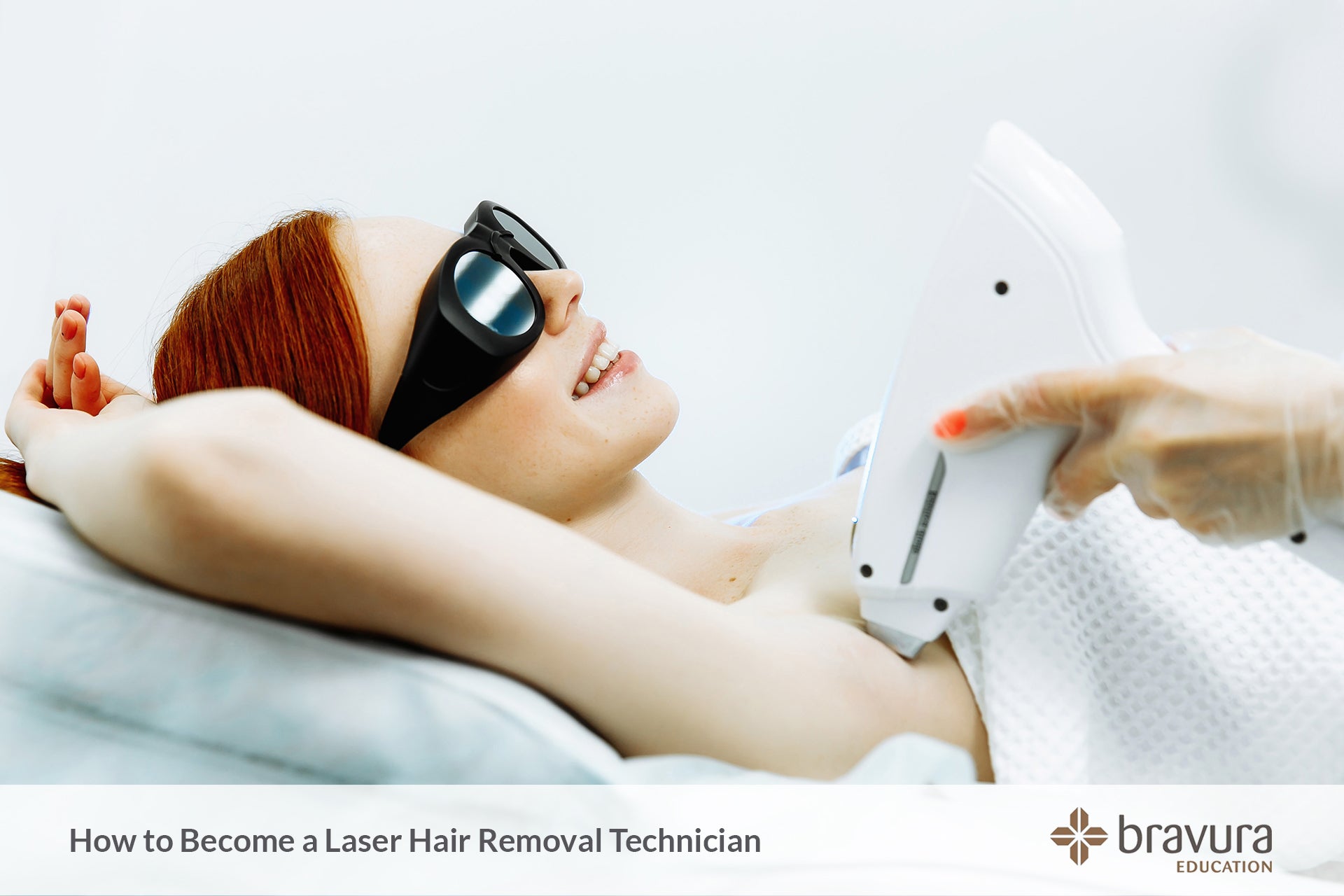 How to become a laser hair removal technician
Navigating your new career can be a little daunting. But don't worry, we've got you covered.
Becoming a laser hair removal technician is so simple and straight forward, it may surprise you.
At Bravura Education, we will help you understand the science of light, national and state regulation, how light interacts with the skin and the key safety issues you need to be across before you do hair reduction treatments, including what wavelengths/laser or IPL to use, how to prepare the client, what to look out for, how to determine what and how you'll treat, and post-care arrangements.
We can have you skyrocketing toward your new career in as little as ten hours. Once you complete your exam, you are able to go out and open a new business or apply for a role in a salon or clinic and start gaining clinical experience!
One question I get asked ALL THE TIME is 'what about practical'? Great question! The first thing is to complete your laser safety certificate (which is included in the hair reduction course) before you even pick up the handpiece of a machine.
Understanding the light and how to safely use it is important, for everyone involved! Once you ace your exam, using the machine makes so much more sense.
Some students, who don't have access to technology for developing the practical application of their skills, like to spend time with us face-to-face. They can receive hands-on experience with cutting-edge technologies and close supervision from qualified and experienced staff and make valuable industry connections. All of our clinical practice is run out of Lismore in Northern NSW. This option is also helpful for states with laser regulations in Australia and those who need log book hours.
Would you like to take a look at the course? Laser and intense pulsed light safety officer course
Payment options? We've got you covered! We have a lay-buy option at checkout. It requires a small once-off admin fee, and you have the choice of how many months (up to 12) you would like to pay it off, interest-free. How good is that?!
If you are looking at purchasing or leasing a machine, or just want to do a little research into the machines and what's on offer, we highly recommend the companies we have listed on the bottom of our home page. Ae support these ones because they have great machines backed by science, great clinical training offerings and excellent follow-up customer service.
If you are in QLD, WA or TAS, please note, due to Laser regulations Australia there are a few other things you need to be aware of in your State, please read more here https://www.bravura.edu.au/blogs/news/gbfgbf
As always, I am here to help and happy to answer any questions you have. Please reach out to me, hello@bravura.edu.au
Krystle x
Post Disclaimer
This blog post has been vigilantly researched and fact checked to ensure that it is accurate, reliable and up to date. You must keep in mind that errors and omissions may occur and that we welcome any feedback or corrections in this regard. We encourage you to do your own research to verify the accuracy and contemporary nature of the information presented.