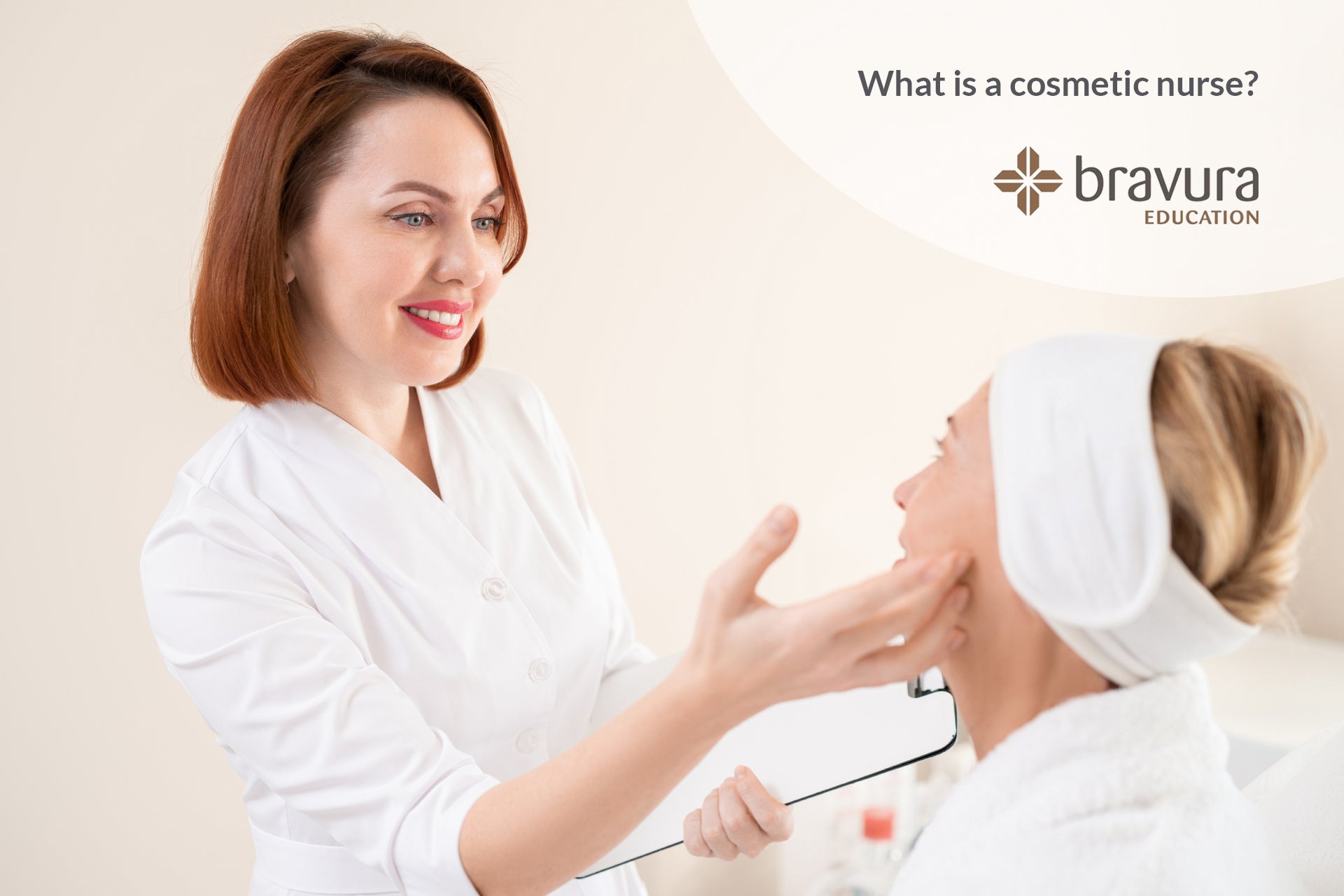 What is a cosmetic nurse?
I wish I had a dollar for every time I've been asked about how to become a cosmetic nurse (I'd be retired in a nice little beachfront home by now!). 
Before we deep dive into that though, let's look at my definition of a cosmetic nurse:
"Cosmetic nurses care for patients undergoing non-surgical treatments that modify or alter the appearance, colour, texture, structure or position of their features with the intention of achieving what they perceive to be a more desirable appearance or for boosting their self-esteem and/or confidence."  (O'Keefe, 2020)
It seems a bit obvious, but you have to be registered with AHPRA as a nurse to call yourself one. Cosmetic nursing is a blend of the scopes of practice of both dermatology and plastic surgery nursing where the skillset for appearance enhancement has been filtered out and branded as "cosmetic nursing". Common activities of cosmetic nurses include the provision of skin care advice and referral, skin cancer checks, management of common skin disorders, prescription of medical grade skin care products (cosmeceuticals), laser and other light based therapies, skin resurfacing using lasers or micro-needling devices, removal of benign lesions, administration of dermal fillers, muscle relaxants and fat dissolving medications, PDO threads, skin tightening and mesotherapy. I've jointly published a standards and scope of practice document for cosmetic nurses previously so for a comprehensive look at this DOWNLOAD IT HERE:
The first thing is, you need is to be registered with AHPRA as an enrolled nurse, registered nurse or nurse practitioner (not midwife). It doesn't matter what your previous experience is, if you expand your current scope in accordance with the Nursing and Midwifery Board of Australia Decision Making Framework to make enhancements to your practice, particularly around scope of practice and education then you're on the right track. My favourite textbook is Cosmetic Dermatology by Dr Leslie Baumann. If you're thinking of becoming a cosmetic nurse read it first it's a great overview of what types of things you'll me managing. The other book I love is Anita East's Beautiful Unique Faces. Anita is an amazing actress turned Nurse Practitioner and her book is mandatory for anyone in appearance medicine. It is a reality check for consumers and providers alike as she unpacks the truths of beauty and how to remain genuinely your unique self through sharing her case studies and personal anecdotes. 
A lot of what you need to know can be done as part of working in this area and taking advantage of job-based training and mentoring and CPD opportunities like conferences, supplier training and online learning.
Calling yourself a "cosmetic nurse" if you're doing some or all of these activities is fine. There are no prescribed qualifications or certificates required for cosmetic nursing and the title isn't protected. What you can't do is call yourself something that is misleading like "Cosmetic Practitioner" which could appear that you are a Nurse Practitioner which IS a protected title.
Some people like to formalise their experience with accredited education. Here is a validated post-graduate education pathway for cosmetic nursing:
Laser Safety Officer's Certificate 

– Bravura Education - Licensing for 

Qld, Tas and WA, Bravura and recognition of prior learning (RPL) for the Australian College of Nursing Graduate Certificate in Cosmetic Nursing, see point three.


​

Advanced Laser/IPL Clinical Practice Theory 

– Bravura Education - recognition of prior learning (RPL) for the Australian College of Nursing Graduate Certificate in Cosmetic Nursing, see point three.​


​

Graduate Certificate in Cosmetic Nursing 

- Australian College of Nursing - 

This course has only been offered for the first time this year and the uptake has been amazing. The course provides nurses with an advanced knowledge of all aspects of cosmetic nursing, as well as an appreciation of the psychological and emotional needs of their clients, enabling them to provide evidence-based, holistic nursing care that reflects current best practice. You will get 24 credit points towards a Master Degree. You will get RPL for our two courses (above) when you enrol if you've done them in the past two years otherwise they're a complementary part of your course with the ACN.​ 



Master Degree




​

Master of Nurse Practitioner

Peer support is essential here too. The Australian College of Nursing has a Cosmetic Nursing Community of Interest where you can connect with like-minded nurses and get support and advice. There's also a few active Facebook pages like the Cosmetic, Aesthetic and Skincare Nurses group where case reviews, jobs and other interesting stuff is shared.
Now you have the lowdown, we look forward to having you as part of our tribe x
Post Disclaimer
This blog post has been vigilantly researched and fact checked to ensure that it is accurate, reliable and up to date. You must keep in mind that errors and omissions may occur and that we welcome any feedback or corrections in this regard. We encourage you to do your own research to verify the accuracy and contemporary nature of the information presented.