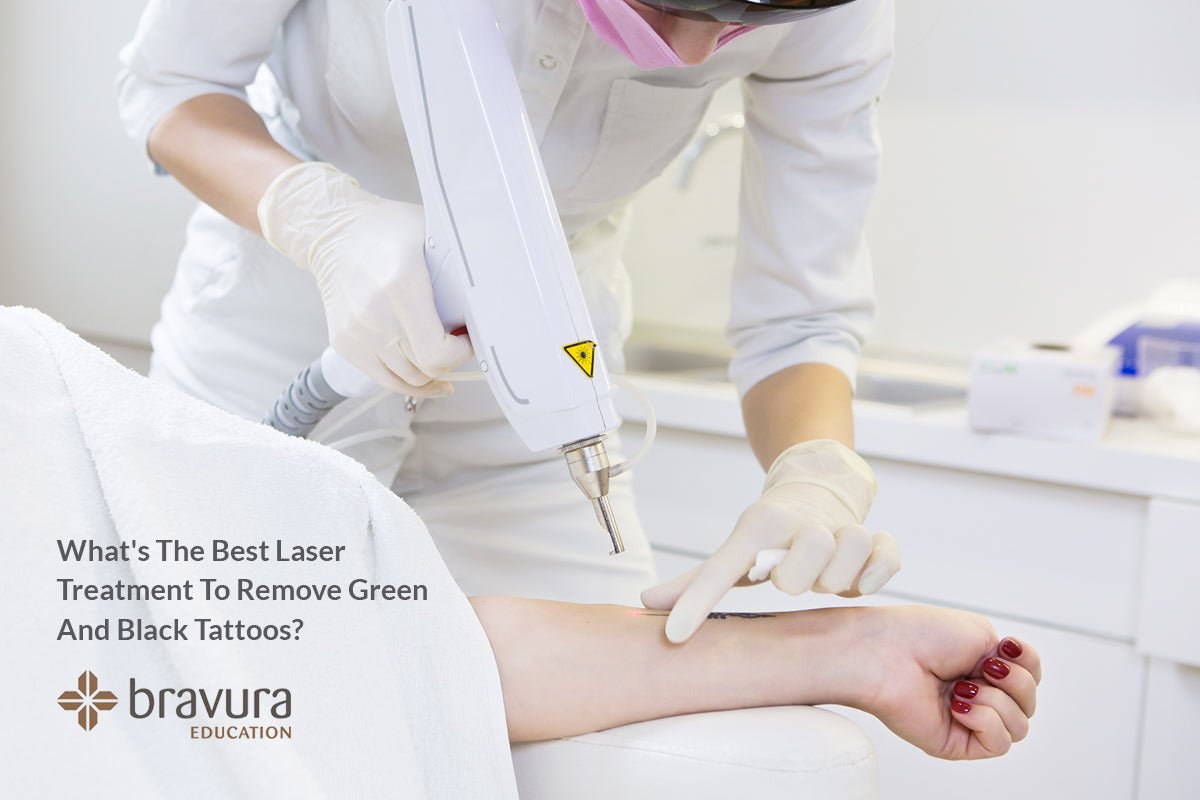 What's the best laser treatment to remove green and black tattoos?
When it comes to removing tattoos no one size fits all and using the incorrect device can lead to incomplete clearance of the tattoo and in extreme cases burning and scarring. Here we help you make an informed choice about where you go and who you see for safe and effective results.
When selecting the correct laser for tattoo removal it should always be a Q-switched type laser which has high-output energy at very short intervals. This uses the photoacoustic effect to cause explosive shockwaves that make the ink particles shatter in to smaller pieces that are then taken out of the body via the lymph system. Using a long-pulsed laser or intense pulsed light devices will only heat them up and cause a deep skin burn. This is very painful and will scar.
The colour(s) of the tattoo will determine which wavelengths are used. Of all the colours to remove, black is generally the easiest and you see great results. This is because the black pigment absorbs the laser energy really well to break down the ink into the tiny particles it needs to be processed by the lymph system and liver. Indian ink, lead, logwood tree extract and gunpowder can sometimes be used to create black tattoos. Laser should NEVER be used if the substance used as the ink could be explosive. Lasers commonly used for black tattoos include: Q-switched alexandrite (755nm) and Q-switched Nd:YAG (1064nm).
Green tattoos are a bit trickier. They are a combination of blue and yellow pigment and the yellow is hard to lighten as there is no wavelength that is strongly absorbed into it. Blue tattoos are generally cobalt aluminium (azure blue) and can be treated with  Q-switched alexandrite (755nm) or Q-switched Nd:YAG (1064nm), the same as black ones. Yellow tattoos are generally done with ochre, Pigment Yellow 74, Chrome yellow  or Curcumin yellow. Some okay results have been seen with  Q-switched  Nd:YAG (532nm) but the best we can expect is a fade rather than clearance when it comes to green tattoos. Fade instead of clearance isn't often a problem as most people want to put a new tattoo over the top so if there's some leftover green/blue/yellow it won't show through too much.
Remember to ask lots of questions of the person treating your tattoo. Things to ask include:
Post Disclaimer
This blog post has been vigilantly researched and fact checked to ensure that it is accurate, reliable and up to date. You must keep in mind that errors and omissions may occur and that we welcome any feedback or corrections in this regard. We encourage you to do your own research to verify the accuracy and contemporary nature of the information presented.