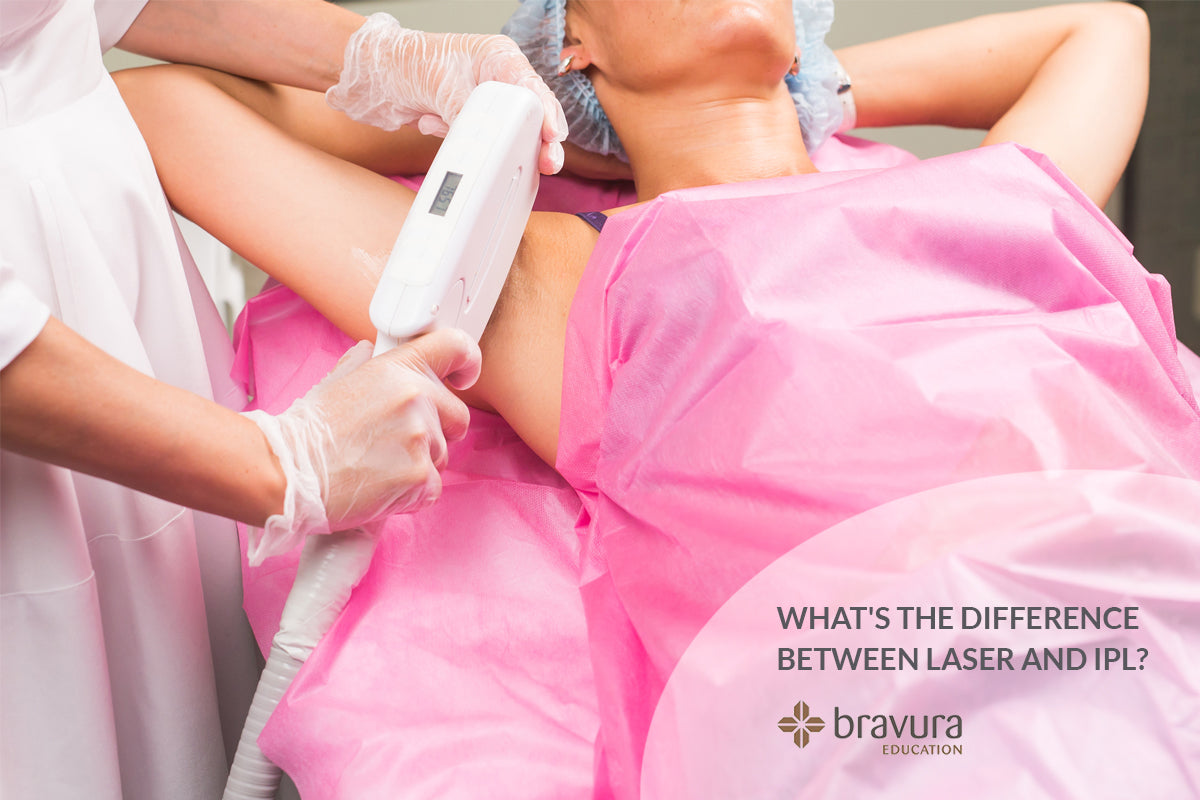 What's the difference between laser and IPL?
A great question! There is no right or wrong answer, although we all have our favourites, right?
I prefer laser for hair removal and IPL for skin rejuvenation personally, but the next person might have had a completely different experience… So, its like asking what's better; Tesla or Mercedes? Gotta love both for similar AND different reasons! 
The difference between the devices is the light itself. Laser has a more specific light beam of one wavelength focused on the area, kind of like a pen to paper, whereas the IPL light scatters a range of wavelengths onto the area, like rainfall or a torch.
Now the variables….. Pain, price, results, and brands…
Pain… Will depend on your pain threshold, but as the saying goes pain is beauty, and we know we can handle it. Laser does tend to be a quicker treatment, so if your pain threshold is below zero, maybe opt for the laser and find a therapist who will help you through by talking, making you laugh, stopping so you can breathe etc – there are magnificent staff out there who care so much for their clients, and it makes such a difference! Remember though, if the pain is too strong, speak up and ask the therapist to stop. It may be too hot for your skin and need adjusting.
Price… will depend on where you go to have it done. Each salon/clinic has their place in the market, you have the cheaper price point and the more expensive clinics, often with the same machines in both places, so do some research, and see where you feel you fit comfortably. Remember, more expensive does not always equal better, BUT on the flip side, you will get what you pay for. Be discerning and choose wisely! Education, experience, cleanliness, kindness, professionalism and reliability are all things to look for, not just fancy marketing and a cool Instagram account…
Results… Usually the first treatment for hair reduction and/or rejuvenation have the most dramatic effect, and there after the results are consistent as you continue through the months, though you never quite have that first time "wow" result, its slow and steady from here…. There are no one size fits all for laser/IPL treatments though. Hair reduction can be anywhere from 6 to 12 sessions, depending on hair colour, skin colour and frequency of visits to name a few. Skin rejuvenation all depends on how deep your concerns lay under the skin; you may be happy after just three sessions, or you may want to continue until you have that porcelain reflection. Can you see the very individual theme here for these devices and treatments?
Brands… In my 21 years in the cosmetic industry, some companies stand out above all the rest, not only for their superior quality devices, but their after sales service and team culture (this is not a paid blog btw) take a look at the bottom of our home page if you are at all interested in researching devices to purchase for your own business needs. The ones we support, we do because they have awesome devices, great support and after sales service. There are thousands of devices to choose from, so researching this is extremely important, it's a big investment! Steer very clear of eBay, GumTree and Alibaba for a second hand laser/IPL machine though, no matter how good the deal seems, there have been some horror stories for patients and buyers alike…Patients have been burned and scarred and buyers have ended up with expensive machines that they have no idea how to use properly.
As always, I am here to answer any questions I can, and I am always happy to help! Krystle x
Post Disclaimer
This blog post has been vigilantly researched and fact checked to ensure that it is accurate, reliable and up to date. You must keep in mind that errors and omissions may occur and that we welcome any feedback or corrections in this regard. We encourage you to do your own research to verify the accuracy and contemporary nature of the information presented.