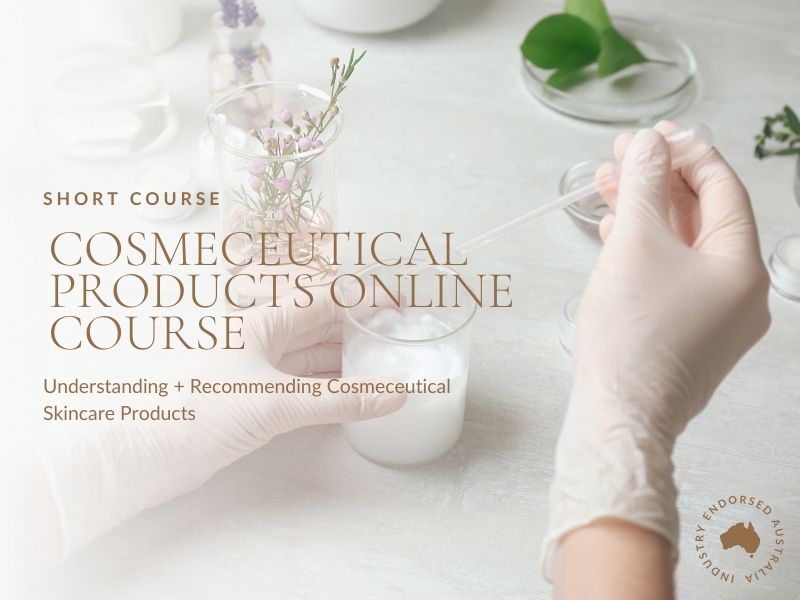 Cosmeceutical Products Short Course
The Cosmeceutical Products Short Course is a detailed guide that explains medical-grade skincare, also known as cosmeceuticals. This will not only make skincare less confusing but also give you the information and confidence you need to improve your clinical practice.
Ever wondered about why retinoids are important for the health of skin or felt overwhelmed thinking about introducing skincare into your clinic? This is a beginner's guide to medical grade skincare (cosmeceuticals) and provides a framework upon which to grow your confidence.

Our Cosmeceutical Products Short Course covers

Skin aging assessment
The importance of using medical grade skincare for home care and before and after treatments
Key actions of Vitamin A, B3, C, peptides and physical sunblock
Who is it for?
Anyone who is wanting to start a career in the area.
Mode of delivery
Online
Investment of time
Two hours at your own pace, in your own time and you can take as long as you like. Assessment is a one-hour, online, open book quiz (optional).
Prerequisites
While there are no specific prerequisites for enrolling in our "Cosmeceutical Products Short Course", we highly recommend that you consider completing our comprehensive "Skin Anatomy & Physiology for Cosmetic Treatments" program beforehand.
Doing so will not only provide you with a solid foundation but also give you a distinct advantage in mastering the material covered in this course.

What happens once I enrol?

Wondering what to expect once you've made the decision to enrol on "Cosmeceutical Products Short Course"? Let us walk you through the seamless process:


Upon enrolling with our "Cosmeceutical Products Short Course", you will receive an instant confirmation email, assuring you that your spot in the course is secure. But that's just the beginning of your exciting journey!
Shortly afterward, you'll receive a second email containing your exclusive login details for our online course platform. Keep an eye on your inbox, and if you don't see it right away, don't forget to check your spam folder – sometimes, those important emails can end up there.
Inside this email, you'll find a direct link to your course, along with simple, user-friendly instructions on how to set up your password.
Once you've logged in, your courses will be right at your fingertips on the first page, conveniently hyperlinked for easy access. We're committed to ensuring that your learning experience is as smooth and hassle-free as possible.
In the unlikely event that you don't receive your login details within two working days (although it usually happens much faster than that), please take a moment to verify that your email firewall hasn't inadvertently blocked our communication.

Have any questions or need assistance at any point in this process? We're here to help! You can reach our dedicated support team at 1300 001 808 or Contact Us.

Your success is our priority, and we're here to support you every step of the way. Get ready to embark on this exciting educational journey with confidence!

START LEARNING TODAY
Begin your "Cosmeceutical Products Short Course" journey today with Bravura Education!
Enrol now for just $49