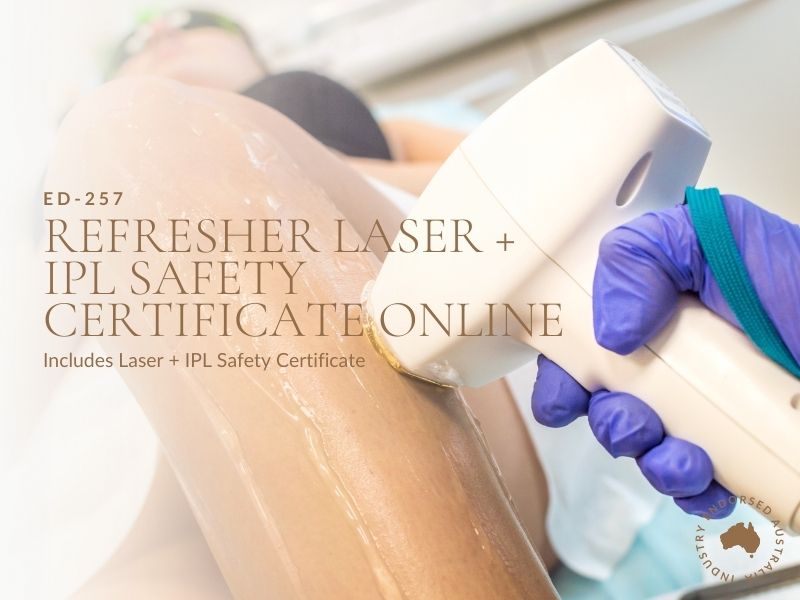 Refresher Laser/IPL Safety Certificate (Cosmetic)
COSMETIC FRESHEN UP
Feel confident knowing that you are up to date
Are you working in a cosmetic/aesthetic/ dermatology practice and using lasers or other light-based technologies? Is your laser safety certificate a bit old and you feel it needs a 'freshen up' or maybe you have plenty of experience but no laser safety qualification? This laser safety course will remind and reassure you about what you already know well and give you the peace of mind of being completely up to date in your education and practice.
Who is it for?
GPs, doctors, nurses, beauty therapists and other dermal clinicians or skin therapists.
Mode of delivery
Online
Investment of time
Up to six hours at your own pace, in your own time and you can take as long as you like. Assessment is a two-hour, online, open book exam.
Course Content
Operational characteristics of lasers
Generation of the laser beam and propagation of light
Characteristics of lasers and the laser beam
Properties of different types of lasers
Optical pathways
Delivery systems and applicators/including IPL
Laser controls, e.g. power/pulse/time settings, emergency control and delivery systems.
Laser hazards
Laser-tissue interactions
Particular hazards of delivery systems
Ocular and skin hazards
Patient-specific hazards
Reflected beam hazards
Laser plume hazards
Fire, explosion, electrical and environmental hazards.
Principles and procedures for safe laser use
Standards, regulations and guidelines
Laser classification and hazard analysis
Audit of laser facilities
Laser controls in health care facilities
Examples of safe practice and programs
Equipment inspection (quality assurance) protocols
Investigation and management of laser accidents/incidents
Eye protection and protective eyewear
Potential for fire and explosion and protection against flammability hazards
Management of airborne contaminants (laser plume)
Electrical safety
Laser controlled areas—designation, warning signs, entry controls, control of access to the laser
Hazards of particular procedures
Role and responsibilities of an LSO.
Expected learning outcomes
Explain the scientific underpinning of how and why lasers and Intense Pulsed Light (IPL) operate
Identify the tissue interactions when using lasers and IPL
Identify and interpret the legal considerations for the use of laser and IPL technologies in Australian states/territories
Have an understanding of the safety precautions required when using lasers and IPL in clinical practice
Identify potential risks and identify resources to develop safety plans for the use of lasers and IPL in a clinical setting
Classify, explain and select appropriate lasers and IPL for a variety of clinical presentations
Accreditation
CPD Points
This laser safety course meets six hours of continuing professional development (CPD) when applied according to relevant AHPRA guidelines. Continuing professional development is the means by which members of the profession maintain, improve and broaden their knowledge, expertise and competence, and develop the personal and professional qualities required throughout their professional lives.
NOTE: THIS COURSE FORMS PART OF THE LASER SAFETY EDUCATIONAL EVIDENCE REQUIRED FOR LASER APPLICATIONS IN QUEENSLAND, WESTERN AUSTRALIA AND TASMANIA. IT IS NOT A LICENCE.
What your peers are saying about our laser safety courses
Training with Bravura Education allowed our staff to study in their own time, at their own speed and has given them the confidence to be on the floor and up and running quickly. Suzie Hoitink RN (Founder, Clear Complexions Clinics).
What happens once I enrol?
An email confirming your enrolment will be sent immediately and then you will be sent your online course log in details in a second, separate email. If this second email doesn't show up, please check your spam. It will have a link to your course and simple instructions on how to set your password. Once you log in to your course(s) they will show up on the first page as a hyperlink. If you do not receive an email with your log in details within two working days (it is usually much faster than this though) please check that the email hasn't been blocked by your firewall. Any questions? Call us on 1300 001 808 or Contact Us.
Practical Experience
Our online laser safety courses provide the convenience of equipping yourself with new skills and theoretical knowledge in the comfort of your own home or workplace. Many of our students take advantage of opportunities to practice their skills on technology that readily exists in their workplaces.
Some students, who don't have access to technology for developing the practical application of their skills, like to spend time with us face-to-face. They can receive hands-on experience with cutting-edge technologies and close supervision from qualified and experienced staff, and make valuable connections in the industry. Take a look here at what we have for you on our Practical Experience Hub.
DO YOU HAVE MORE THAN FIVE (5) STAFF TO TRAIN?
IF SO, WE HAVE DISCOUNT PACKAGES FOR YOU.
CONTACT US
START LEARNING TODAY
Enrol now for just $250