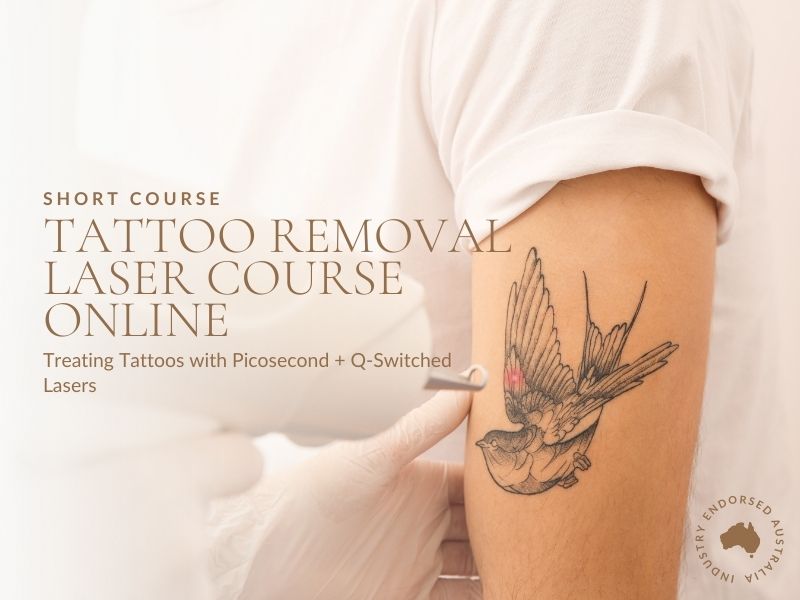 Laser Tattoo Removal Short Course
Dreaming of opening your own tattoo removal business? Do this course if you are considering doing laser tattoo removal, are expanding your practice or have bought a machine and want to know how to get the best out of it.
You are ready for this one if you've already done your laser safety certificate. 

Who is it for?
Anyone wanting to learn! GPs, doctors, nurses, beauty therapists, and other dermal clinicians or skin therapists. People with no experience but would like to improve their knowledge in this area.
Mode of delivery
Online
Investment of time
This course takes 4 hours to complete. Assessment is one online, open book quiz.
NOTE: Please note that some countries/provinces/states/territories have specific requirements for using a laser. More on the Australian rules HERE.
What is it about?
Tattoo types and context

Ink colour

Laser types and mechanisms of action

Assessing the approximate number of treatments

Realistic expectations

Complications

Laser tattoo removal (ink, wavelength, clinical end points)

Client education, preparation and post-treatment care

Anaesthesia

Principles of professional and clinical practice.

This course meets four hours of continuing professional development (CPD) when applied according to relevant AHPRA guidelines. Continuing professional development is the means by which members of the profession maintain, improve and broaden their knowledge, expertise and competence, and develop the personal and professional qualities required throughout their professional lives.
What happens once I enrol?
An email confirming your enrolment will be sent immediately and then you will be sent your online course login details in a second, separate email. If this second email doesn't show up, please check your spam. It will have a link to your course and simple instructions on how to set your password. Once you log in to your course(s) they will show up on the first page as a hyperlink. If you do not receive an email with your log in details within two working days (it is usually much faster than this though) please check that the email hasn't been blocked by your firewall.
Any questions? Call us on 1300 001 808 or Contact Us.
Save
START LEARNING TODAY
Enrol now for just $199