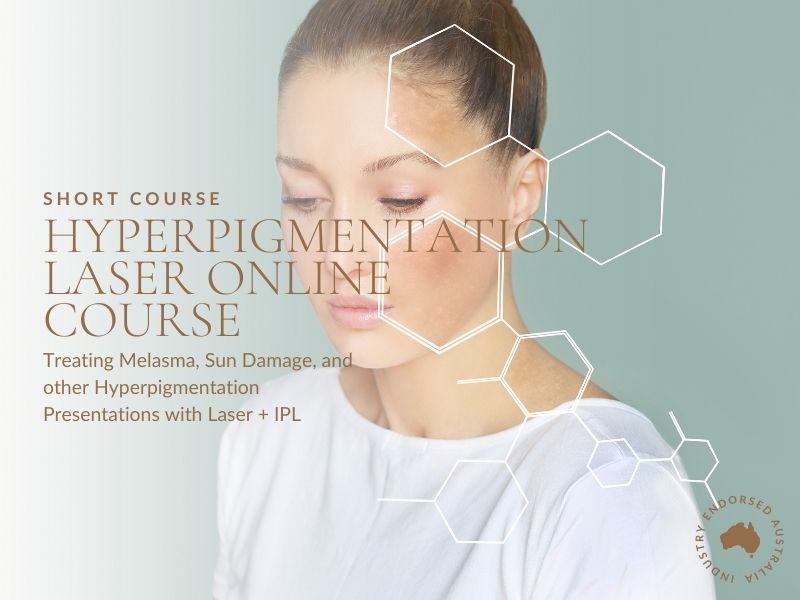 Hyperpigmentation Laser Short Course
This comprehensive online short course is best for you if you are currently providing or planning to expand your range of services. The Hyperpigmentation Laser Short Course encompasses the effective management of common hyperpigmentation disorders using cutting-edge laser and Intense Pulsed Light (IPL) technologies.
Do this online short course if you already offer or are expanding your menu of services to include the management of common hyperpigmentation disorders for your clients using lasers and IPL.
We recommend that a laser safety certificate be completed before attempting this CPD module in order to fully comprehend the principles behind the technology being used.

Who is it for?
Anyone wanting to learn! GPs, doctors, nurses, beauty therapists and other dermal clinicians or skin therapists or those interested in a career in this rapidly evolving industry.
Mode of delivery
Online.
Investment of time
Up to four hours at your own pace, in your own time and you can take as long as you like to do it. Assessment is a one hour, online, open book exam.
Prerequisites
This course welcomes participants from all backgrounds, with no specific prerequisites required for enrollment.


However, having a foundational understanding of skin anatomy and physiology can greatly enhance your learning experience and provide you with a deeper appreciation of the subject matter.

Join us in this educational journey, as we delve into the fascinating world of skincare and dermatology. Whether you're a seasoned professional or a curious enthusiast, Hyperpigmentation Laser Short Course promises to equip you with valuable insights and knowledge to help you excel in the field.

Don't miss the opportunity to explore the intricacies of skin health and care with us!

Topics covered:
Objective assessment & realistic expectations
Preparing the skin with cosmeceuticals
Common aesthetic presentations
Realistic expectations
Pre treatment considerations
Wood lamp skin examination
Pigmented lesions
Epidermal lesions
Dermoepidermal lesions
Dermal lesions including melasma
Clinical end point examples
Therapeutic parameters and light application techniques
Expected learning outcomes
Identify client assessment tools for determining depth of rhytides and photoaging and communicating treatment plans and results to clients and colleagues
Understand the importance of the appropriate cosmeceutical choices
Use evidence based practice to inform clinical decisions when treating clients with common hyperpigmentation disorders seen in cosmetic/aesthetic practice
Select appropriate clients for reduction of pigmentation and skin rejuvenation and manage client expectations
Differentiate between hyperpigmentation disorder and choose the most appropriate treatment combinations
Appropriately manage hyperpigmentation disorder
Recognise infection control responsibilities as they relate to skin rejuvenation
CPD Points
This course meets four hours
of continuing professional development (CPD) when applied according to relevant
AHPRA guidelines
. Continuing professional development is the means by which members of the profession maintain, improve and broaden their knowledge, expertise and competence, and develop the personal and professional qualities required throughout their professional lives.
START LEARNING TODAY
Begin your Skin Hyperpigmentation Laser Treatment journey today with Bravura Education!
Enrol now for just $249