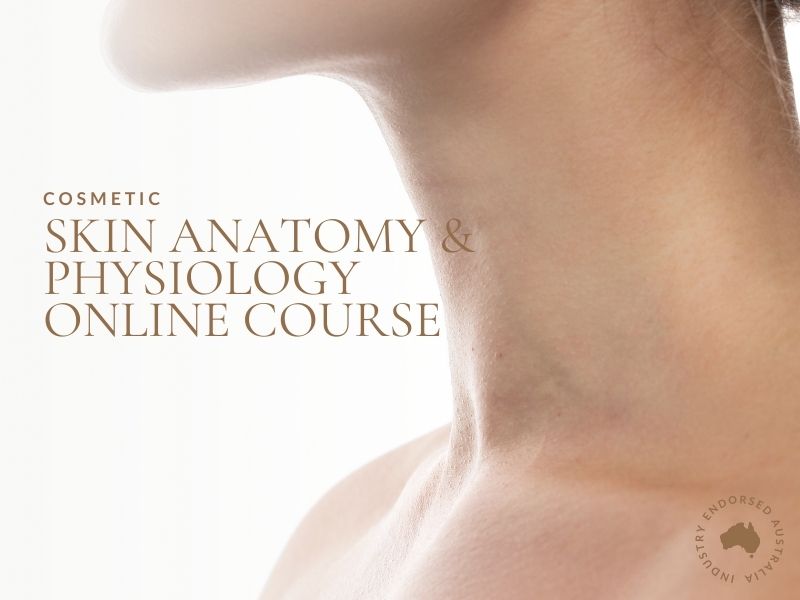 Skin Anatomy and Physiology Course
This course is for people who are just starting out in the world of cosmetic procedures. The Skin Anatomy and Physiology Course is also great for those who want to refresh their knowledge or those eager to learn more about medical-grade skincare, chemical peels, laser/IPL treatments, or the utilization of energy-based devices.
Whether you're a novice with no prior experience in skincare or an experienced practitioner seeking a refresher, this course is tailored to suit your needs.
Understand the anatomy and physiology of both skin and hair and prepare yourself to deliver the best possible care for your clients. 
Who is it for?
Anyone who is wanting to start a career in the area.
Mode of delivery
Online
Investment of time
Four hours at your own pace, in your own time and you can take as long as you like. Assessment is a one-hour, online, open book quiz.
Prerequisites
This course welcomes participants from all backgrounds, with no specific prerequisites required for enrollment.

Join us in this educational journey, as we delve into the fascinating world of skincare and dermatology. Whether you're a seasoned professional or a curious enthusiast, skin anatomy and physiology course promises to equip you with valuable insights and knowledge to help you excel in the field.

Don't miss the opportunity to explore the intricacies of skin health and care with us!

Expected learning outcomes
After completing Skin Anatomy and Physiology Course you will be able to:

Describe the integumentary system and the role it plays in homeostasis
Describe the layers of the skin and the functions of each layer
Describe the accessory structures of the skin and the functions of each
Describe the changes that occur in the integumentary system during the aging process
Discuss several common diseases, disorders, and injuries that affect the integumentary system
Explain treatments for some common diseases, disorders, and injuries of the integumentary system
Accreditation
CPD Points
Skin Anatomy and Physiology Course meets four hours of continuing professional development (CPD) when applied according to relevant AHPRA guidelines. Continuing professional development is the means by which members of the profession maintain, improve and broaden their knowledge, expertise and competence, and develop the personal and professional qualities required throughout their professional lives.

Skin Anatomy and Physiology Course is supported by William & Flora Hewlett Foundation, Bill & Melinda Gates Foundation, Michelson 20MM Foundation, Maxfield Foundation, Open Society Foundations, and Rice University. Powered by OpenStax CNX.
What happens once I enrol?
Wondering what to expect once you've made the decision to enrol on Skin Anatomy and Physiology Course? Let us walk you through the seamless process:
Upon enrolling with our "Cosmeceutical Products Short Course", you will receive an instant confirmation email, assuring you that your spot in the course is secure. But that's just the beginning of your exciting journey!
Shortly afterward, you'll receive a second email containing your exclusive login details for our online course platform. Keep an eye on your inbox, and if you don't see it right away, don't forget to check your spam folder – sometimes, those important emails can end up there.
Inside this email, you'll find a direct link to your course, along with simple, user-friendly instructions on how to set up your password.
Once you've logged in, your courses will be right at your fingertips on the first page, conveniently hyperlinked for easy access. We're committed to ensuring that your learning experience is as smooth and hassle-free as possible.
In the unlikely event that you don't receive your login details within two working days (although it usually happens much faster than that), please take a moment to verify that your email firewall hasn't inadvertently blocked our communication.

Have any questions or need assistance at any point in this process? We're here to help! You can reach our dedicated support team at 1300 001 808 or Contact Us.
START LEARNING TODAY
Begin your Skin Anatomy and Physiology journey today with Bravura Education!
Enrol now for just $299