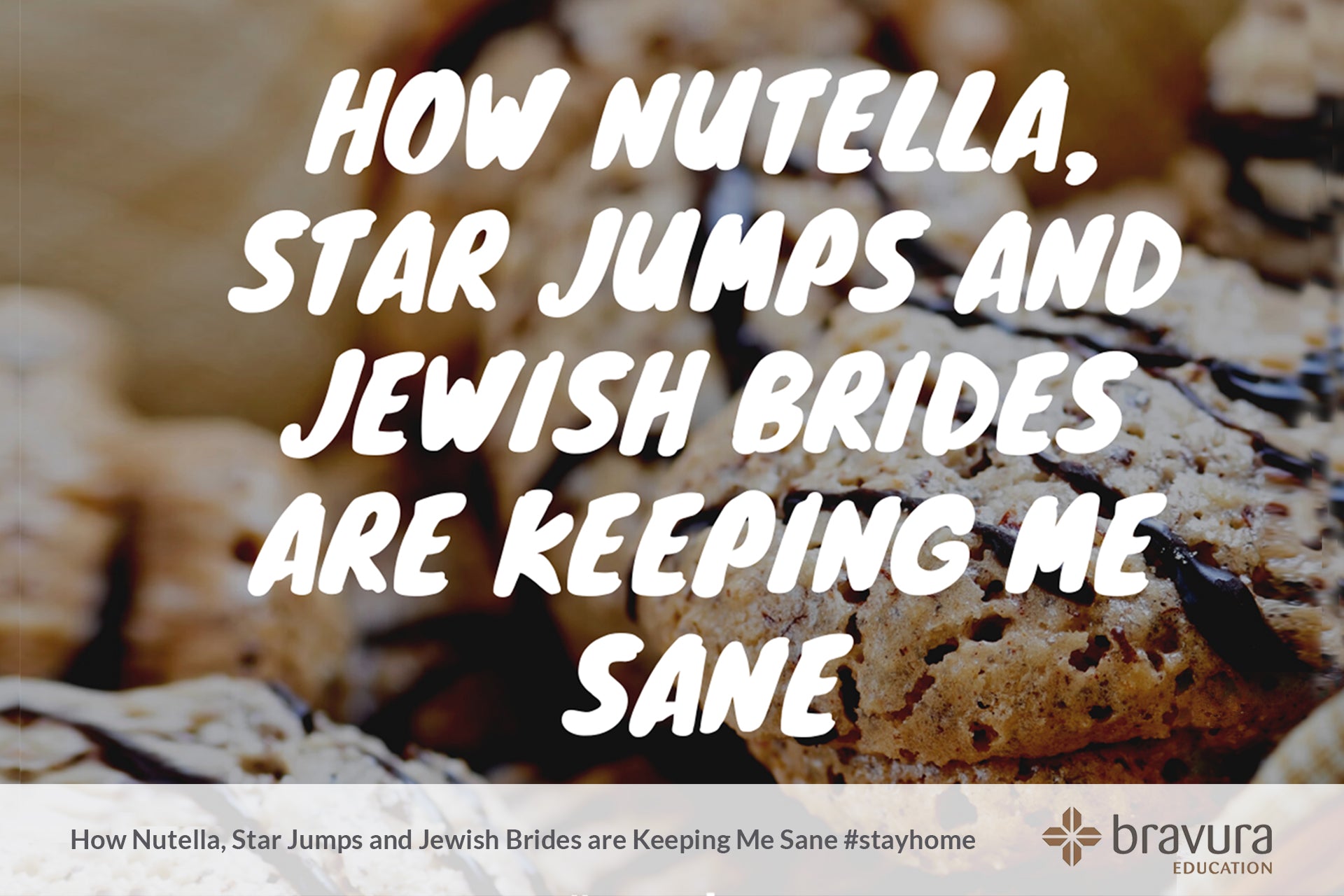 How Nutella, Star Jumps and Jewish Brides are Keeping Me Sane #stayhome
Isolation!

It seems that this is all we talk, read and think about these days…. and for many, this can be a really difficult time, for others, they enjoy being at home. There is no right or wrong way to feel now, these are unprecedented times!
I am personally someone who loves to be at home, so I am loving lockdown, but that doesn't mean I don't have moments of difficulty. For me, I know that keeping myself occupied when I start to get a bit edgy is helpful, otherwise I get too into my own thoughts and can take a deep dive downward.
Small things can help, wander around the balcony and look out to the world, do the dishes, scrub the toilet, again, rearrange the kitchen cupboard, have a cup of tea, just something, I mean, I have even found myself doing star jumps on the spot then bursting out laughing, and these are much better options than sitting on the couch overthinking!

On the Easter long weekend, I allowed myself to feel like I was at home, 'on holiday, as opposed to thinking (what feels like) day 64329 in isolation. I wanted to share some recipes I tried, and things I watched, in the hope that even one thing on the list gives you something to do, or an idea. (For the days when you aren't doing your course) that doesn't involve jumping on the spot.

Three recipes I tried...

Nutella cake with Kinder Bar icing
Nutella cake with kinder icing! I am NOT a baker or a cook, so the simpler the recipe, the happier I am. This has 4 ingredients! Nutella, eggs, flour and then kinder bars for the icing. I copied this recipe, except the icing part, for the icing, I used Nutella while the cake was still quite warm then, I broke up mini kinder bars all over the cake and as they began to melt and slide, I used the sharp point of a knife to swirl around. We ate this cake for breakfast on Easter Sunday.
https://www.mashed.com/75763/3-ingredient-nutella-chocolate-cake-recipe/

No-Knead Bread
Again, the easier the better, this is a no-knead, no-nonsense recipe. It takes two hours for the dough to rise, but the prep and cooking either side either of that is really easy. Promise!
https://anitalianinmykitchen.com/no-knead-bread/

Lemon bars
I had a few too many lemons, and while most say to 'make lemonade'. I opted for something way sweeter. It was kind of a shortbread base with a custard(ish) top…Tangy, sweet and delish!
https://www.rockrecipes.com/super-easy-lemon-bars/
While I don't necessarily love to cook, I am loved adding something to my day to take up a bit of time, even if it was just 45 mins, plus, having something tasty on the other side is not bad either!
This 'holiday' I made the most of eating and watching Netflix!
These three NETFLIX series I watched or stared watching and recommend....

Unorthodox. A short series, only four episodes. Mostly subtitles. Set in America and Berlin. Follows a young girl as she enters an arranged marriage and her desire and journey of perusing a better life for herself. It shows some interesting insights into Jewish culture. I thoroughly enjoyed it and admired her courage.

Working Moms. I am seven episodes in. It is hilarious. Relatable. Following brand new Mums, through their return to work, navigating motherhood, mothers' group, leaking breasts, and everything in between. It is a hoot. An easy watch!

Don't f**k with cats! This is another short series, only three episodes. It is about social media and what sick things lay within, what's posted, who can see it and ultimately who cares enough to do something about what's wrong. Extremely interesting, slightly disturbing, but one I couldn't turn off.
So, as you can tell, this Easter long weekend I allowed myself to cook, eat and watch Netflix. Not a lot else went on to tell you the truth, and I am so cool with that.

We need to run our days as we see fit through this time, to make sure that the days don't run us!

There will be productive days and there will be lazy days, and that's OK! There aren't any specific 'rules' for being in isolation, no handbook or manual, this situation is on each of us individually to navigate our way through, yet we are all in it together.

Wishing you all a week full of whatever it is you need to be happy, healthy and fulfilled.

I would love to hear if any of you watch the shows or make the recipes, please send a pic hello@bravura.edu.au

Krystle x

Post Disclaimer
This blog post has been vigilantly researched and fact checked to ensure that it is accurate, reliable and up to date. You must keep in mind that errors and omissions may occur and that we welcome any feedback or corrections in this regard. We encourage you to do your own research to verify the accuracy and contemporary nature of the information presented.